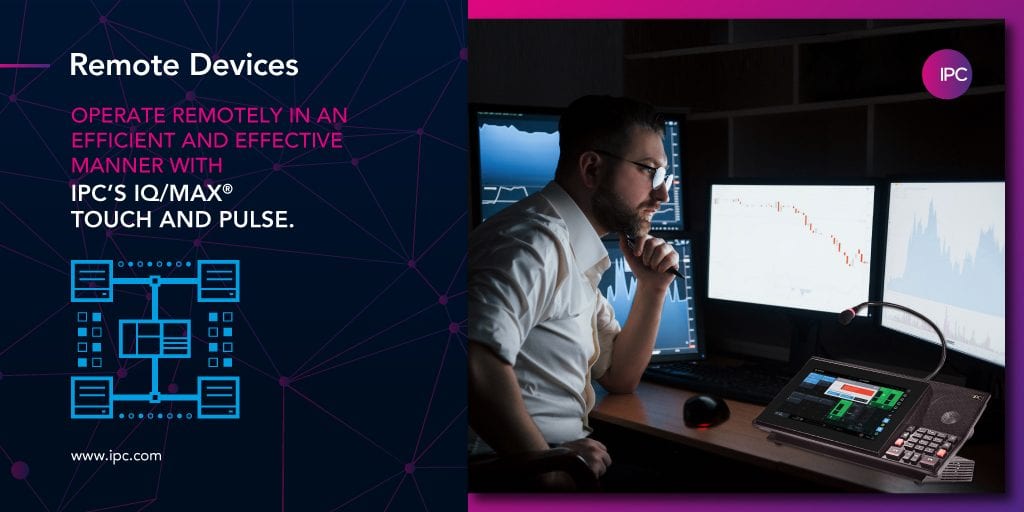 Efficient Hoot and Holler Communications for Trading Floors
The Unigy Pulse hoot and holler system is designed as a compact hoot, private wire and intercom device. This IPC product features a flexible microphone and multiple speaker configurations. The system gives middle- and back-office staff quick connectivity to the trading floor. With hoot, intercom, TV audio and speaker channels, this communication device eliminates the need for 3rd party hoot and ICM solutions that consume valuable desk space. With Unigy Pulse, deals can get done faster.
Unigy Pulse simplifies hoot, intercom, speaker channels and TV audio for instant trading collaboration across the trade lifecycle, which helps to expedite trades while reducing risk and increasing compliance
Hoot and Holler System for Voice and Live Audio
Having a hoot and holler intercom system for instant trading collaboration has never been easier – or flexible. Now traders and trade support staff can have instantaneous and seamless access to each other, keeping communications flowing while reducing risk and improving compliance. Unigy Pulse – the compact device from IPC®, and part of our instant trading collaboration product suite – is "built from the ground up" to support all participants in the trade lifecycle via the Unigy platform. It's not only for hoot and intercom, but also for TV audio, speaker channels and private wires that are required for today's complex financial environments.
Built for real-world trading environments
Unigy Pulse features clear, time-saving and intuitive touch screen controls in a compact intercom device that makes efficient use of available desk space. This reliable device is built for daily use, and audio levels can be adjusted for comfortable operation in any trading environment. Its design features a flexible gooseneck microphone supporting either sitting or standing positions. IPC understands the needs of modern traders, back and middle office professionals. Unigy Pulse answers the call for an ergonomic and easy to use device. This hoot and holler system enables fast and accurate communication when time matters most. It also integrates with live TV audio to deliver mission critical, real-time financial information.
Key benefits of Hoot and Holler with Unigy Pulse:
• Saves valuable time – Instant access to your most important contacts and channels
• Speeds up communications – Deals done faster and more accurately
• Simplifies infrastructure – Seamless integration to all other endpoints
Additional features and capabilities:
• 0, 4 or 8 speakers configuration
• Highly extensible touch screen for future apps and integration
• Gigabit Ethernet port with pass through for additional device connectivity
• Shares the same integrated, unlimited directory as IPC's industry-leading Unigy Trading System
• Speaker replay with 20-second playback
• Customizable applications
• Gooseneck microphone with LED indicator for open mic
Eliminating third-party back room equipment is just the start. Each Unigy Pulse device helps streamline deployments by supporting:
• Power over Ethernet – eliminates need for local power
• Dual Ethernet Ports – so a single Ethernet cable can be shared with the PC or PBX phone
• Reduced Desktop Footprint
Connect With IPC
For a price quote and additional information about Unigy Pulse and other trading floor turret solutions, Contact Us directly. IPC is your ideal provider for highly efficient hoot and holler systems and other modern trading solutions. For reliable multi-channel intercom communications, Unigy Pulse sets the bar for excellence. Find out how Unigy Pulse intercom devices can enhance your current trading floor communications.