Ready for a regulator's request?
This is IQ/MAX Touch
A software-driven, flexible and extensible secure communications device for delivering compliance, security and user capabilities on IPC's Unigy® platform. IQ/MAX® Touch is an intuitive and powerful tool for bringing advantages throughout your enterprise – a truly global, multi-lingual interface for multinational teams.
User Productivity
Intuitive, flexible and step saving IQ/MAX Touch. You can customize to your own workflow which helps you do everything faster.
Compliance & Security
Pristine audio for compliant call capture aids voice recording, analytics and biometrics. All communications are encrypted and secure.
Operational Efficiencies
Software-based IQ/MAX Touch makes implementation, expansion and changes faster. Intuitive IQ/MAX Touch makes training easy.
Return on Investment
Integrate and incorporate new applications. Build independent apps. With IQ/MAX Touch's open architecture you can take advantage of the latest innovations and lower your administrative burden of system management at the same time.
Key features of IQ/MAX Touch
Spatial Audio
Configure speakers on the left, right or virtual center speaker adds audio direction – an important indicator to a conversation
Device Integration
Integrated Bluetooth for connected devices (e.g. keyboard, mouse, video camera)
Dual Super-Wide Band Microphones
Transmit conversations in high-fidelity, pristine audio
LED to indicate microphone is transmitting
Optional second microphone
Pristine Audio for Compliant Call Capture
Aids voice recording, analytics, biometrics and real-time verification
Single Device Delivering Unigy Capabilities
All features and capabilities in a compact device
Secure and compliant communications for up to 34 conversations simultaneously
Expandability through software-based licensing
Expansion Speaker
Separate speakers from intercom and configure spatial audio
Expansion Screen
Separate speakers and intercom
Speaker configuration for spatial audio
Truly Global
Multi-lingual interface for multinational teams
Expandable to support all languages
Advanced Touch Screens
Multi-touch screen supports various ways to improve user productivity
Customizable User Interface
Flexible and extensible to add new apps and adapt as regulatory and market needs evolve
Physical Dial Pad
Master volume control and left and right handset call control keys
IQ/Max Touch Measurements
Primary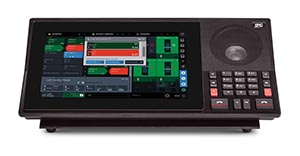 Primary – Speaker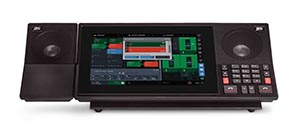 Width: 19 3/8 inches/ 49.2cm
Height: @

30°: 5 9/16 inches

14.1 cm
Primary – Expansion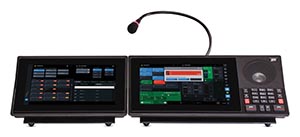 Width: 26 inches/66 cm
Height: @45°: 6 5/8 inches/16.8 cm
Depth: 8 inches/23 cm
Primary – Expansion + Speaker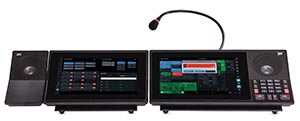 Width: 30 3/8 inches/77.1 cm
Height: @60°: 7 1/2 inches/19.5 cm